Comparing the 2022 Bolt EV & Bolt EUV | Lugoff, SC
You've been hearing about electric vehicles and you have decided to give one a try, but how do you decide which one is right for you? Check out the 2022 Bolt EV and EUV in Lugoff, SC, and decide which one fits you best.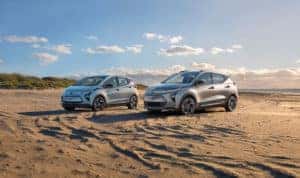 Bolt EV Redesign for 2022
The 2022 Chevrolet Bolt EV has been redesigned with new features and an increased driving range of 259 miles per charge. The Bolt is priced at an affordable MSRP of $31,000, which makes electric accessible to everyone. The Bolt EV offers 36 inches of rear legroom and 57 cubic feet of cargo space on a 102.4-inch wheelbase.
The Bolt EV is quick and fun to drive, with a Sport mode that gives an exhilarating and responsive ride, and the ability to go from 0 to 60 in 6.5 seconds. This is the perfect car for singles or couples who are looking for a fun to drive investment in the future.
All-New Electric SUV
The Bolt EUV is an all-new electric offering for Chevrolet for the 2022 model year. This compact "EUV" gives you the room and comfort you look for in an SUV with electric convenience and zero emissions. The MSRP is $33,000 and the estimated driving range is 247 miles per charge.
The Bolt EUV has more legroom than the Bolt EV — 39.1 inches, to be exact — and about the same max cargo area on a 105.3-inch wheelbase. But it gives the advantage of a taller ride height for better visibility.
The Bolt EUV also offers Super Cruise as an option. Super Cruise is a driver assistance feature that lets you sit back and relax while the Bolt EUV does the driving. When you are driving on a compatible road, you can take your hands off the wheel and cruise down the road. The Bolt EUV is a great vehicle for active families who want to embrace the electric life.
Technology-Based Vehicles
Technology is the foundation of electric vehicles, so it is no surprise that the Bolt EV and EUV offer convenient, intuitive, connective technology. An 8-inch graphic display puts driver information right before your eyes in real-time to let you know how much charge is left along with speed, temperature and other important information.
Connect wirelessly to Apple CarPlay® and Android Auto™ or Amazon Alexa to communicate with contacts and enjoy your favorite media.  Both the Bolt EV and Bolt EUV also come with Chevrolet's standard Safety Assist collection of driver assistance safety features.
One-Pedal Driving
One-pedal driving uses regenerative braking to slow the vehicle and capture energy. In regenerative braking, an electric motor charges a battery when the car slows down. To use one-pedal driving, press the button to engage the feature, and gently remove your foot from the accelerator pedal. The one-pedal driving system will slow the Bolt EV or EUV to a stop and you don't have to touch the brakes.
Easy Charging
Charging the Bolt EV and EUV is as easy as plugging in a cord. There is a network of more than 40,000 public charging stations across the country, with more coming every day, so finding a charge is not a problem.
Plus, Chevrolet will help you install a Level 2 charging station at home when you purchase or lease a 2022 Bolt EV or Bolt EUV. Chevrolet also offers an 8-year or 100,000-mile warranty on the battery to give you extra peace of mind.
Embracing the Electric Life
Whether you choose the Bolt EV or Bolt EUV, driving an electric vehicle comes with some nice perks. Electric vehicles don't contribute to environmental pollution because they have zero tailpipe emissions.
Some states offer tax incentives to electric vehicle buyers, and some utility companies offer discounts to drivers who install home charging units. Plus, you can take the High Occupancy Vehicle lane in many states when you drive an electric vehicle.
Learn more about the 2022 Bolt EV or Bolt EVU when you contact us at Lugoff Chevrolet Buick GMC. We'll help match you with the right vehicle to fit your lifestyle and preferences.