How to Keep Kids Happy on Road Trips in Your GM Vehicle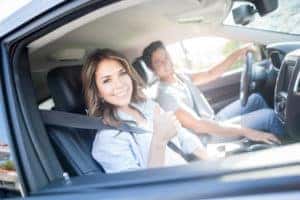 Summer road trips are a wonderful way to make family memories — but those long drives can take a toll on both you and your little ones. Here are some strategies to help your kids stay happy, calm, entertained, and quiet on those cross-country drives.
Make a vacation journal
Let your kids document their favorite memories — and keep them busy — while you're between destinations. Load up your Silverado's rear seatback pockets some journals and a few craft supplies like glue dots, washable markers, and stickers. After visiting a restaurant or roadside attraction, kids can affix a flyer, paper coaster, or menu to a page in their journal and write down their thoughts on the experience.
On-the-go entertainment
Novels, audiobooks, and portable games can help hours fly by in the car. Some models, like the GMC Acadia, offer a built-in rear-seat entertainment system, complete with a DVD player and wireless headphones, so you can enjoy a few moments of silence while your kids kick back and watch a favorite movie.
Sprinkle in pit stops
If you have the time, consider breaking up your journey with a pit stop at a playground. To make playtime more fun, throw a soccer ball or a Frisbee into the back of your Buick Encore before you hit the road. In addition to giving your kids a chance to burn off some bottled-up energy, it'll give you the opportunity to stretch your legs and get your blood circulating with a brief walk.
When you've got kids along for the ride, you need the comfort and practicality of a GM family vehicle. Come find a new or used Chevrolet Silverado, GMC Acadia, and Buick Encore right here at Lugoff Chevrolet Buick GMC in Lugoff, South Carolina.