Tips for Camping Out in Your GM Truck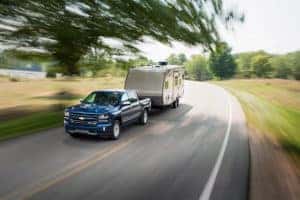 Camping with your friends and family is a must-do activity in fall, and there's no better way to do it than camping out in your GM truck. The following tips will help you make the experience fun, easy, and unforgettable.
With your Chevrolet Silverado 1500 or GMC Sierra 1500, you have plenty of options to fulfill your camping adventure. You can use the bed of the truck to relax and sleep under the stars, attach a tent to the truck's bed, or use the bed's expansive space or truck's towing capacity to haul your gear to the campsite.
No matter what method you choose, you should bring along a few essentials. A comfortable bed, extra cushions, pillows and blankets can help you stay comfy outside. Stock a cooler with food and beverages and keep it far from critters.
"While car camping, plan to keep all your food secured in your car — whether you're trekking to the outhouse or curling up in your sleeping bag for the night," advises REI.com writer Ashley Brown.
Even though you're roughing it out in the great outdoors doesn't mean you have to disconnect from the world you left behind, especially if you harness the sun's power. A portable solar charger can attach to the outside of your GMC Sierra 1500 or Silverado 1500 and absorb the power you need to charge your devices at night.
Get a closer look at the Chevrolet Silverado 1500 and GMC Sierra 1500 at Lugoff Chevrolet Buick GMC in Lugoff, South Carolina.