Tips for Safely Hauling with Your New GM Truck in Lugoff, SC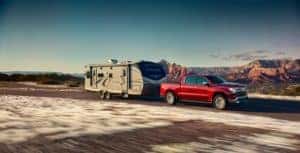 Hauling with your new Chevrolet Silverado or GMC Sierra for the first time can be an overwhelming experience. So, we put together a few safety tips for hauling with your new GM truck in Lugoff and wherever you travel.
Know your truck's capacities
You have to do some math before you haul with your GM truck. Verify your truck's capacities and don't forget to factor in the weight of your cargo and passengers, if applicable, into that limit. Make sure the equipment you're using to connect your trailer, is the right size, too, if you need to tow extra equipment.
Distribute weight properly
For a safer drive, make sure you secure and load your cargo properly with accessories such as ratchet straps. You need to properly distribute the weight from side to side, too. If you need extra help protecting your cargo, there are a range of accessories designed for your Chevy or GMC truck, all available at Lugoff Chevrolet Buick GMC.
Drive with extra caution
When your GM truck's bed is full of supplies, gear, or equipment, you need to be extra careful behind the wheel. Aggressive driving habits such as hard braking or rapid acceleration are never a good idea, but when you're hauling cargo, these maneuvers are extremely dangerous.
Get a closer look at the GM truck lineup at Lugoff Chevrolet Buick GMC in Lugoff, South Carolina.